Ok this is a long one, but it's got some pics and a great ending so I hope you guys enjoy.
The few of you who know me on the forum know I'm one of the biggest P fans on the planet. I'm not up there with some of the top users on here, but I'm def a diehard fan, having all of their albums and a few unreleased presents from Thes, I've been following them as my favorite musical group since 00. Just this past winter, I drove 10 hours from Memphis to Chicago to see them play for the first time and it was one of the greatest experiences of my entire life.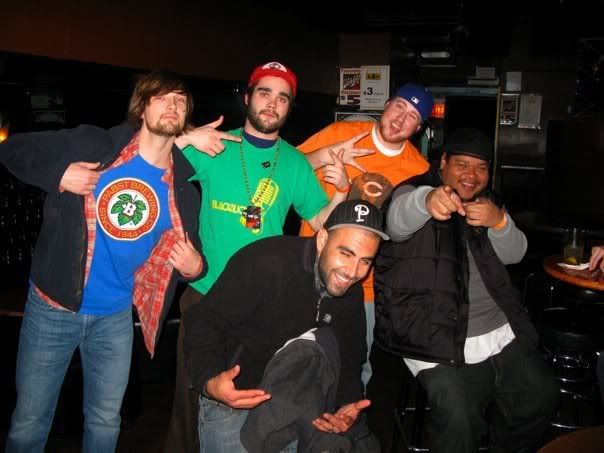 Thats me on the far left with a few guys from the board and The P. The P has been there with me through so many crazy times and I have them to thank for being the music that fuels me through the emotional roller coaster we call life. I'll never forget that show - Ever! It was def the best concert I've ever been to and the guys were great, hanging out with me and the PUTS army before and after the show.
Anyways - on with the story, Around the same time as the Chicago show I started dating a girl I've known for 10 years. We knew each other in high school, I was crushing on her hard but she was with a friend of mine and we couldn't date (that was 01-03). Flash forward to around June of 2009 and we ran back into each other and started talking, and started dating around Jan-Feb 10. Then in May of 2010 things were getting pretty serious. It's tough because she actually lives in Seattle right now and I'm stuck in Memphis trying to finish school but we decided to spend the summer together (after she had visited me for awhile in Memphis things were going great, despite the distance) It would be great to live with her for over 3 months and get some quality time to be together.
So May rolls along and I decide to drive to Seattle right after school finishes. A 3 day 2,300 mile trip means I'm listening to the whole P discography a few times along the way. Well I pack all my cd's and make the trip and it was an amazing journey. I went through 8-9 diff states and was able to see all diff types of new scenery I've never seen before.
I get to Seattle and 6 days after arriving this happens
Before -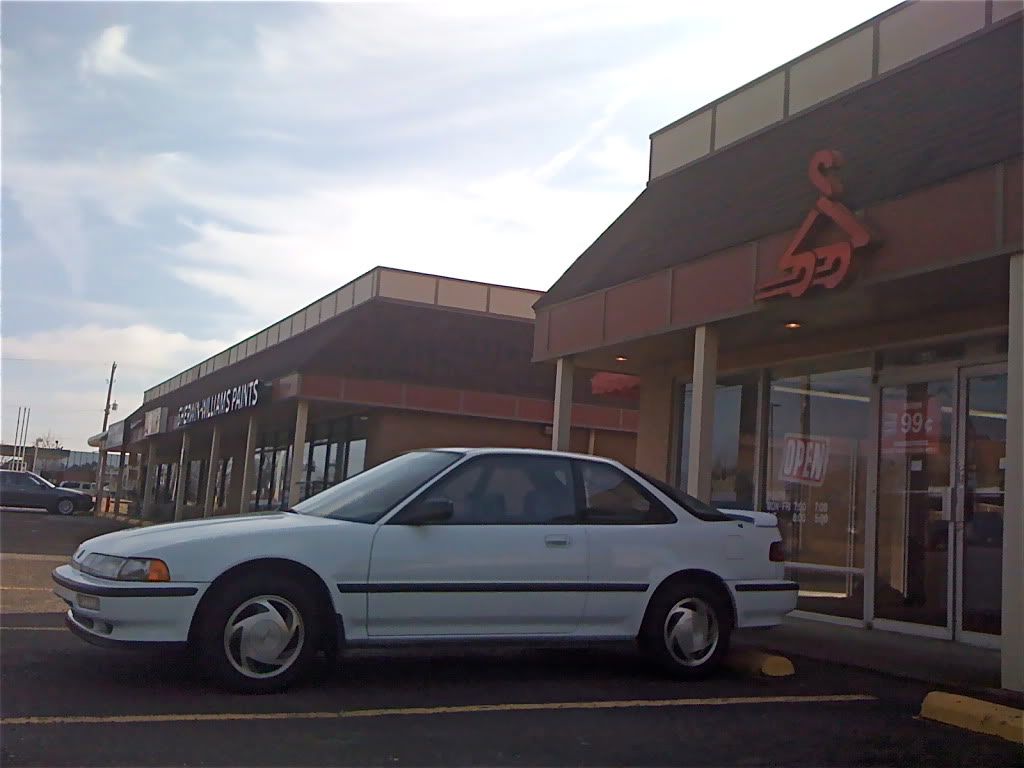 After-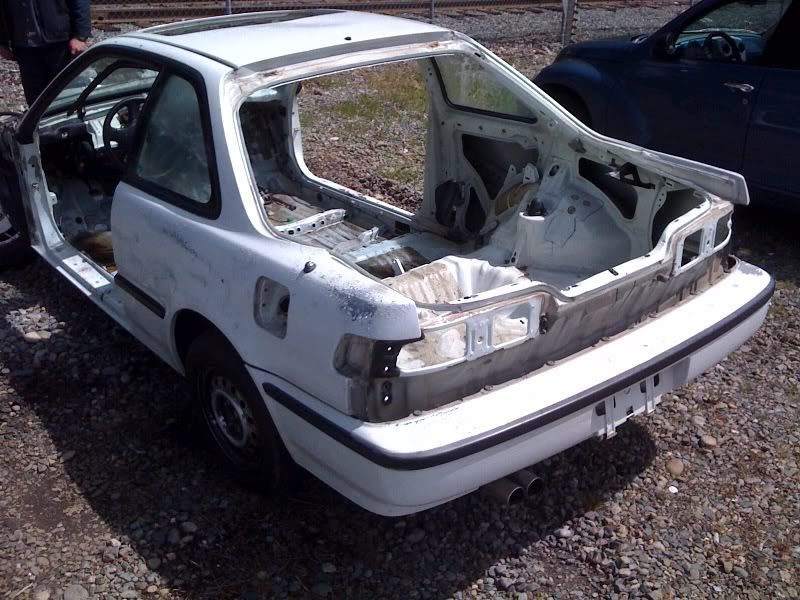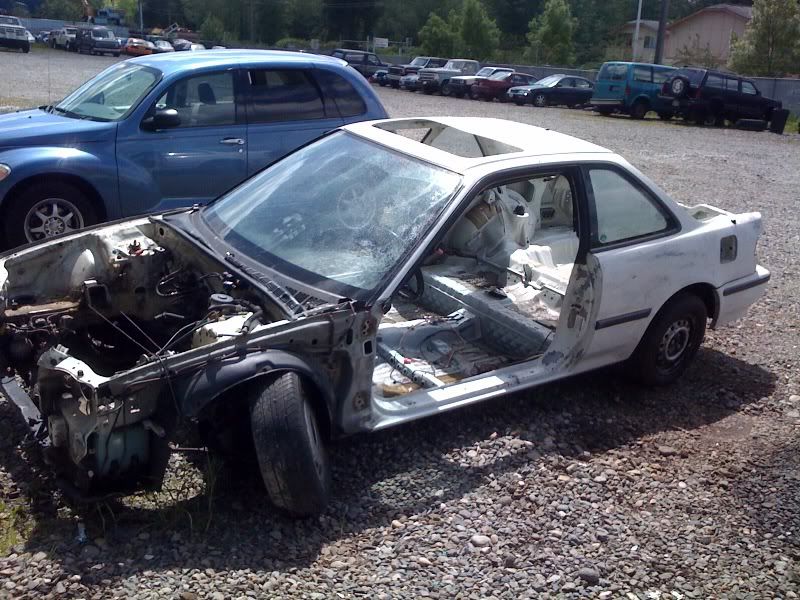 My mint condition, 100% factory Integra was stolen and stripped of EVERYTHING. Literally nothing left on the car, and in the glovebox was Original Sound Track, Carried Away, and Fun DMC - which happened to have the booklet autographed by Thes and Double K, Fun DMC being my favorite album, I was so pissed off. Here I am 6-7 days fresh into Seattle and now I have no car, and a sentimental object that meant quite a great deal to me stolen from my grasp. There was nothing I could do.
I ended up staying in Seattle for the rest of the summer from May until the last weekend in August, having to come home to finish up my Senior year at Memphis. I lasted the whole summer without a car and had the most amazing summer ever with my girlfriend, it ended up being a huge bonding experience and now we are closer than ever. Well we just got closer!
I was really bummed I had to leave Seattle the last weekend in August, having to start school the first week of September, especially seeing how the P would be in town early Sep to play a show. The night of the show my girl told me she had a work function to attend and me being 2,300 miles away I thought nothing of it. She hadn't told me she was going to the show and I hadn't mentioned it to her.
Well tomorrow, September 23rd, is my 25th birthday and I got my birthday packages in the mail from my gf today, only to open them and see this gem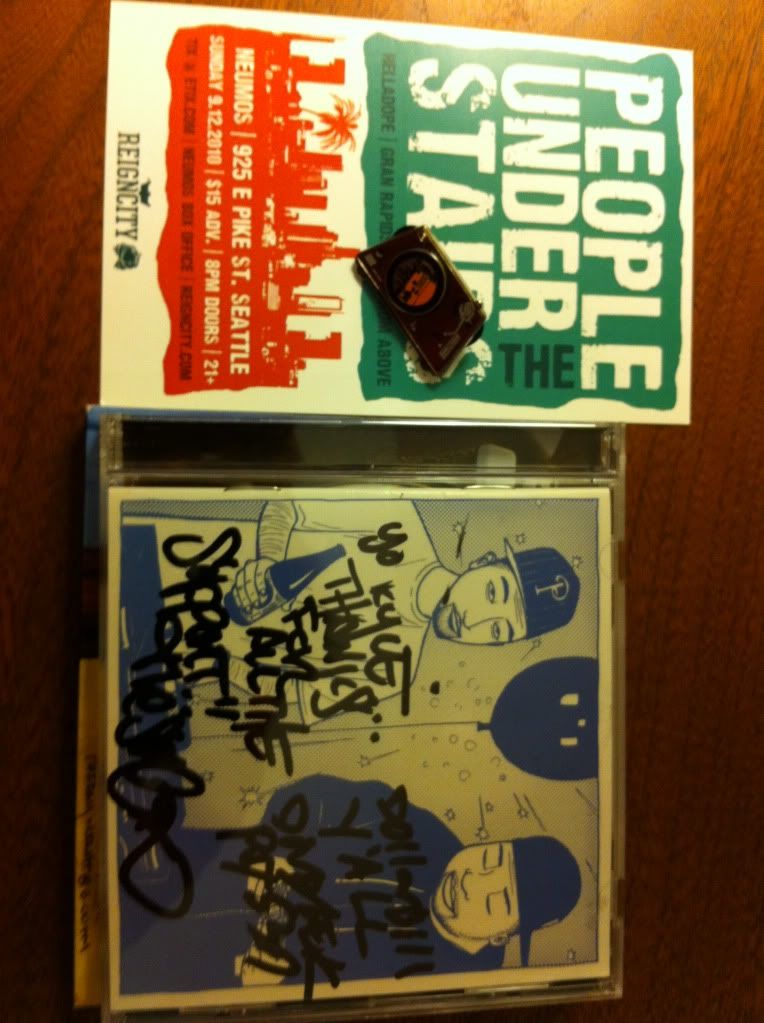 She re-bought me the Fun DMC cd and went to the show with a good friend of hers and stuck around to get it signed. What a girl huh?
She said it was great and that everyone was really nice and the set was off the hook. She's a full PUTS army member now haha.
I just wanted to thank Thes and Double for showing her and her friend some good hospitality and signing the cd for her to give to me for my bday. You guys def make amazing music and are the nicest musicians I have ever met. That's it for my story, I figured some of you might like to hear something positive and hopefully I'll see you guys at a show next time they come back in my neck of the woods.
Here's a picture of us in Seattle too